Crocs goes beyond footwear
By

Sarah Ahssen
Published
today
Feb 15, 2012
The American footwear brand, whose full-year revenue for 2011 could surpass the 1 billion dollar mark for the first time, has just revealed its ambition to transform itself into a global brand. It certainly seems like a long time since August 2009 when Crocs' plastic shoes were going out of fashion and the brand announced that it was facing bankruptcy. In less than two years, Crocs has restructured itself and successfully expanded its shoe collection.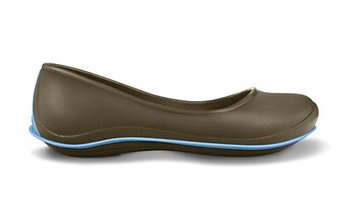 Crocs shoes for women
"More than 200 million pairs of Crocs shoes have been sold in more than 90 countries around the world. That's powerful testimony to the connection forged with consumers by the Crocs brand. Through strong international and regional licensing partners, we plan to extend the power of our brand and make new consumer connections," explained Mike DeBell, Crocs vice president of global sales.
Last autumn, Crocs already started going beyond footwear by launching a line of adult and children's socks in the US under a licensing agreement with Sock and Accessories Brands. The line should soon be available to buy in Europe, where it will be produced by Intersocks. Then in April this year, the Crocs brand will extend to children's apparel through an agreement with the A Group. It will be available in 46 countries around the globe and distributed through retail and wholesale channels. Crocs also entered an agreement with Accessory Exchange in order to produce hats, bags, backpacks and gloves which are now being sold at Crocs retail stores and Crocs.com. The brand will also launch sunglasses in May 2012 in the US and Canada via a licence with Eye King LLC.
Copyright © 2020 FashionNetwork.com All rights reserved.